It was a beautiful day yesterday. The wind had finally dropped and with the sun out it was 'hot' 'hot', well for Orkney in April. In the morning we planted a few things and then Michael worked on an order from Sheila Fleet. In the Kirk cafe they serve their special teas in beautiful glass tea pots and Michael makes plates for them to sit on out of white Oak. He has been doing this for a year since they opened the cafe (well worth a visit if you are in Orkney)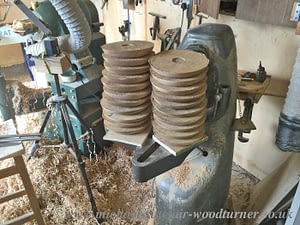 We had a loin of pork in the fridge so it had to be and as Erik made his first appearance after winter hibernation, so did  'Joe'
Michael had brined the pork and now put it in a roasting tray with an onion and water. Once Joe was up to temperature in it went.
We let Joe do is thing. We sat chatted and drank coffee. Looked after the gallery and enjoyed the warm sun, as were the bees, birds, tadpoles and many other passing wildlife. The wren was extremely vocal yesterday. I have feed out for the bees, but more flowers are blooming and there is plenty of pollen on the willows.
After about an hour and a half the pork was ready, tatties wedges were seasons and rubbed and then cooking in Joe too (20mins), gravy made from the liquid out of the roasting tray and tea was ready.
Full now and swadging. Time to watch the beautiful blue sky turn into a fantastic sunset.
A GOOD DAY
Hope yours was