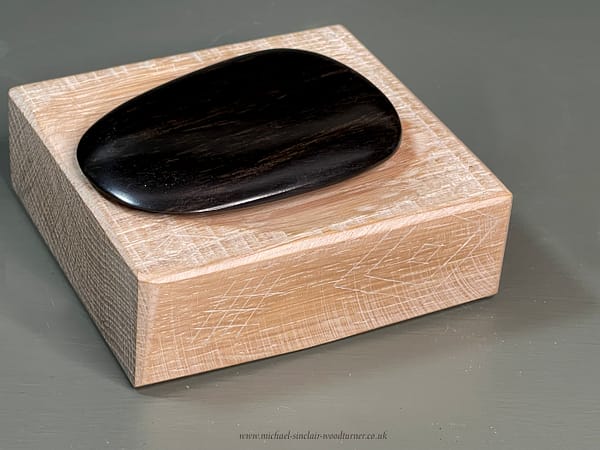 *New piece – Ebony Axehead
Turned from beautiful Ebony this Neolithic inspired axehead is 90mm x 65mm x 10mm. The Ebony was purchased many years ago and is a piece of rejected quality instrument makers wood.
We were privileged to be invited to The Ness of Brodgar to have a look at the recent finds which included some stunning stone axeheads. You could see the revealed edge where the stone had been worked to form and sharpen the axehead.
Michael has displayed it on a limed oak base with Bas relief Neolithic inspired symbols including the Brodgar butterfly. This is inspired by the pieces of stone found with polished areas where the Neolithic people had used then to fashion these tools.
Finished with wax and polished. Over all size 110mm x 100mm x 50mm
Only one available
Product code B256
Your purchase will be sent Royal Mail 1st class, insured and tracked.
For International orders please contact us for exact shipping charges. Please quote the Product code.
Dimensions:

110 × 100 × 50 mm