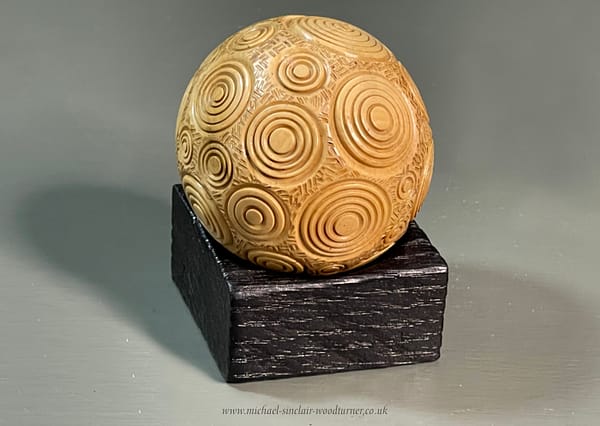 Neolithic inspired 'Petrospheres' SOLD
English boxwood 'Petrosphere'. Turned from English boxwood with lots of turned and carved detail. This detail has then been highlighted with a darker wax.  These are inspired by the stone balls found from the Neolithic period. This boxwood inspired 'Petrosphere' is approximately the same size as most of those found. A very tactile and interesting piece that looks great out on display and feels fantastic in the hand. The 'Petrosphere' is displayed on an ebonised oak base. Over all dimensions approx. 85mm x 85mm high. Ball approx 62mm∅
'Petrospheres' are available to order. They are made from either English boxwood, like this one or Lignum Vitae (sourced from old bowling balls). They can have 4 or 6 facets (your choice) but each face will have random decoration. Each 'Petrosphere is between 60mm to 64mm diameter and comes on it's own base.
Prices start from £165
Product code B237
Your purchase will be sent Royal Mail 1st class, insured and tracked.
For International orders please contact us for exact shipping charges. Please quote the Product code.