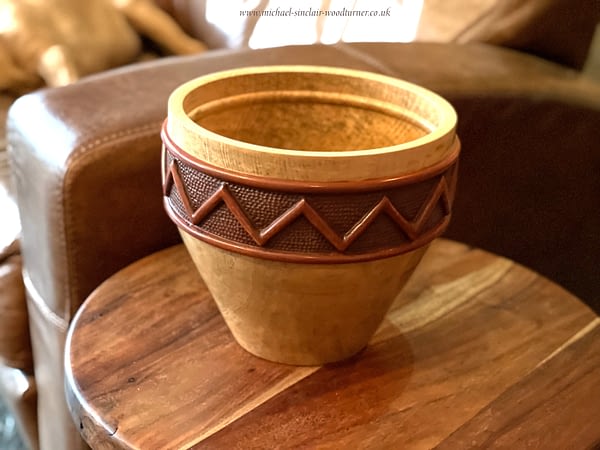 CHESTNUT 210mm x 245mm∅
CHESTNUT bowl inspired by the Neolithic Grooved ware pottery. This imposing piece would be a real statement in any surrounding. The shape, design and features have not only been inspired by the grooved ware pottery but also by a pot found at The Ness of Brodgar this year. The decorative band is edged by two turned beads with carved and textured detail between. This area has then been coloured with hematite (iron ore). Hematite was also used in Neolithic times to colour decoration on stones etc. It is a very natural earthy colour with a lot of depth. A bead has also been turned inside the bowl. This was a feature on the Ness pot, was it to hold a lid of some kind?
Finished with several coats of oil and buffed. Approx size 210mm x 245mm∅
Recommended dry use only.
Only one available
Product code R251
Your purchase will be sent Royal Mail 1st class, insured and tracked.
For International orders please contact us for exact shipping charges. Please quote the Product code.